Regular price
$45.99 USD
Sale price
$46.99 USD
Unit price
per
Sale
Sold out
This polyhedral DND Dice set is made from natural african blood gemstone and it  contains 7 dice: 1* D4, 1*D6, 1*D8, 1*D12, 1*D20, 2*D10 (D10 & D00) and a lint bag, convenient for you to carry.
African bloodstone is a mixture of jasper and chalcedony. It is also available in dark green color with spots of red and dark green colors in between. It is believed to have got its name from the red spots with which it is peppered, and in some traditions it is regarded as a sacred stone, with the red representing the blood of Christ.
There are many known benefits of the bloodstone crystal. It is used to make interesting and attractive jewelry pieces. There are many known metaphysical benefits and healing powers of the stone. The stone has several claimed healing properties that may help you improve your health. (If you need Chicken Bloodstone DND DICE Set, pls refer to: Magiseven Natural Chicken Bloodstone DND Dice, which is fine-grained mixture of dicliite/kaolinite and quartz, with varying amounts of red cinnabar, chicken-blood stone is found in only two localities in China: Changhua and Balinyouqi.)

 Each dice set from MAGISEVEN are about 78 gram (2.75 ounce). MAGISEVEN Size: 
Each D&D DICE set from MAGISEVEN follow the standard right numbering convention. And we adopt this built matching method:
D10 with 0 treated as 0 MUST combine with percentile d10 with 00 treated as 100. (d10 build 2 matches with percentile build 1)
It means that:
The numbers on opposite sides of the D10 add up to 9;
The numbers on opposite sides of the Percentile D10 add up to 110.
The numbers of each die are laser engraved and won't fade over time. They are easy-to-read and suitable for casual play, without straining your eyes. Besides, the angular and stylized design of the font complements the unique texture and color variations of gemstones and glass.
Gemstone dice and glass dice are the ultimate luxury dice - not as light as acrylic but not as heavy as most metal dice. They feel great in the hand, and are guaranteed to impress at the gaming table!
No two stones are EVER alike, yours are one-of-a-kind, handmade. We encourage you to embrace the individual beauty of these elegant dice and enjoy the age-old hand-crafted methodology!
We keep good relationship with our experienced and time-effected factories. Once your order is placed, each dice set will be quality checked before dispatching. And the parcel will be prepared for you within only 1-2 days, no need to wait for 1 week or more.
Pls roll the gemstone dice and glass dice in a felt lined dice tray or a padded mat, store them in a good quality box, and don't expose to water, sunlight, heat for a long time. Wipe them clean with a microfiber cloth after playing.
So definitely, MAGISEVEN DND DICE are perfect polyhedral DND dice sets for tabletop RPG dice games such as Dungeons and Dragons, Shadowrun, Pathfinder, Magic the Gathering (MTG), Heroscape, Savage World, Warhammer, Yahtzee, Raid Shadow Legends and many other dice-based games. Moreover, it's an ideal prop choice for ASMRtist and cosplayers.

First Date Available: 05/04/2023
Share
Shipping Time and More info

About MAGISEVEN DICE's package:

We will send our customers a beautiful lint bags, and then when packing, each dice will be placed in a separate sponge grid and fixed with bubble bags, so that every dice sent to you can be guaranteed to be intact. At the same time, the shipping fees for European and Canada customers has been changed to 0, which means free shipping in USA, EU, Canada.

In this way, MAGISEVEN can ensure that each of our customers can receive high-quality and gorgeous dice while enjoying a super reasonable price , without additional shipping costs.

Shipping Q&A

Following are 6 common questions about delivering packages to you.

      1. Is there need to pay extra shipping fees?

      No. There is no need to pay extra fees.

       2. How long does it take to process an order?

Once your order is placed, we will package your order within 24 hours and send your parcel to our courier within 48 hours. Following is the average shipping time.

| | | | |
| --- | --- | --- | --- |
| Countries | Shipping Way | Shipping Time | Shipping Cost |
| The United States | By air | 5-7 days | FREE |
| Canada | By air | 5-10 days | FREE |
| European | By air | 5-10 days | FREE |
| South Amrecia, Australia | By air | 5-10 days | FREE |

3. How can I confirm my order and get the tracking number?

Successfully placed orders will receive an e-mail confirmation with the order details. If you do not receive an e-email, please check your spam filter or contact us for confirmation.

 You will receive another email with the tracking number 3-5 days after your order is shipped out.

4. Why there is no update of my tracking number?

For international delivery, this situation happens before your parcel arrives in your country. And the tracking number will be updated after it arrives.

       5. Why does shipment delay?

Shipment delays are normally caused by natural disasters, holidays and other logistical problems.

6. How can I change my order?

If you need any assistance with your order, please click here to contact us at: maket@magiseven.com immediately. We will not be able to make changes to your order after it is shipped.

 
View full details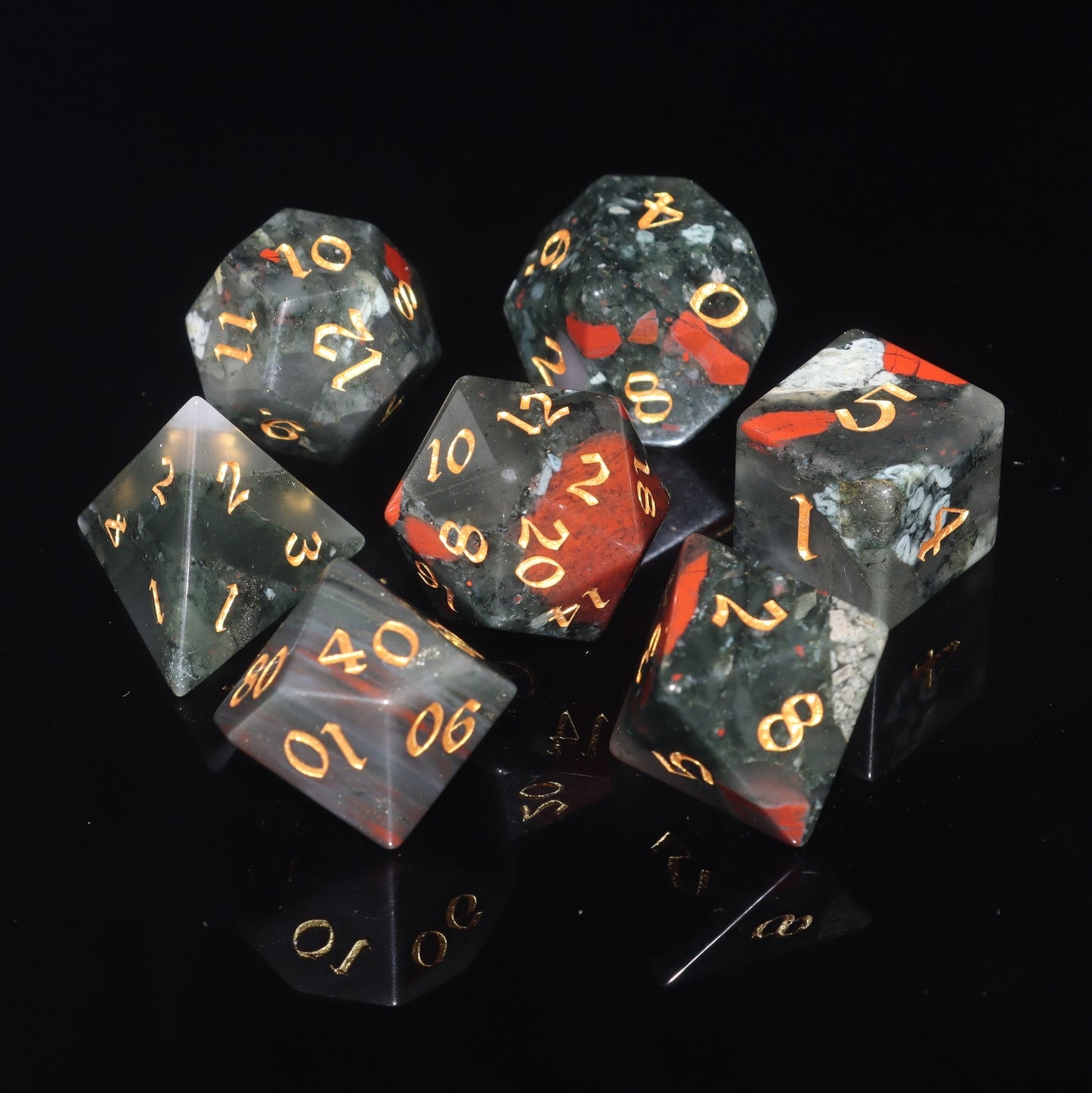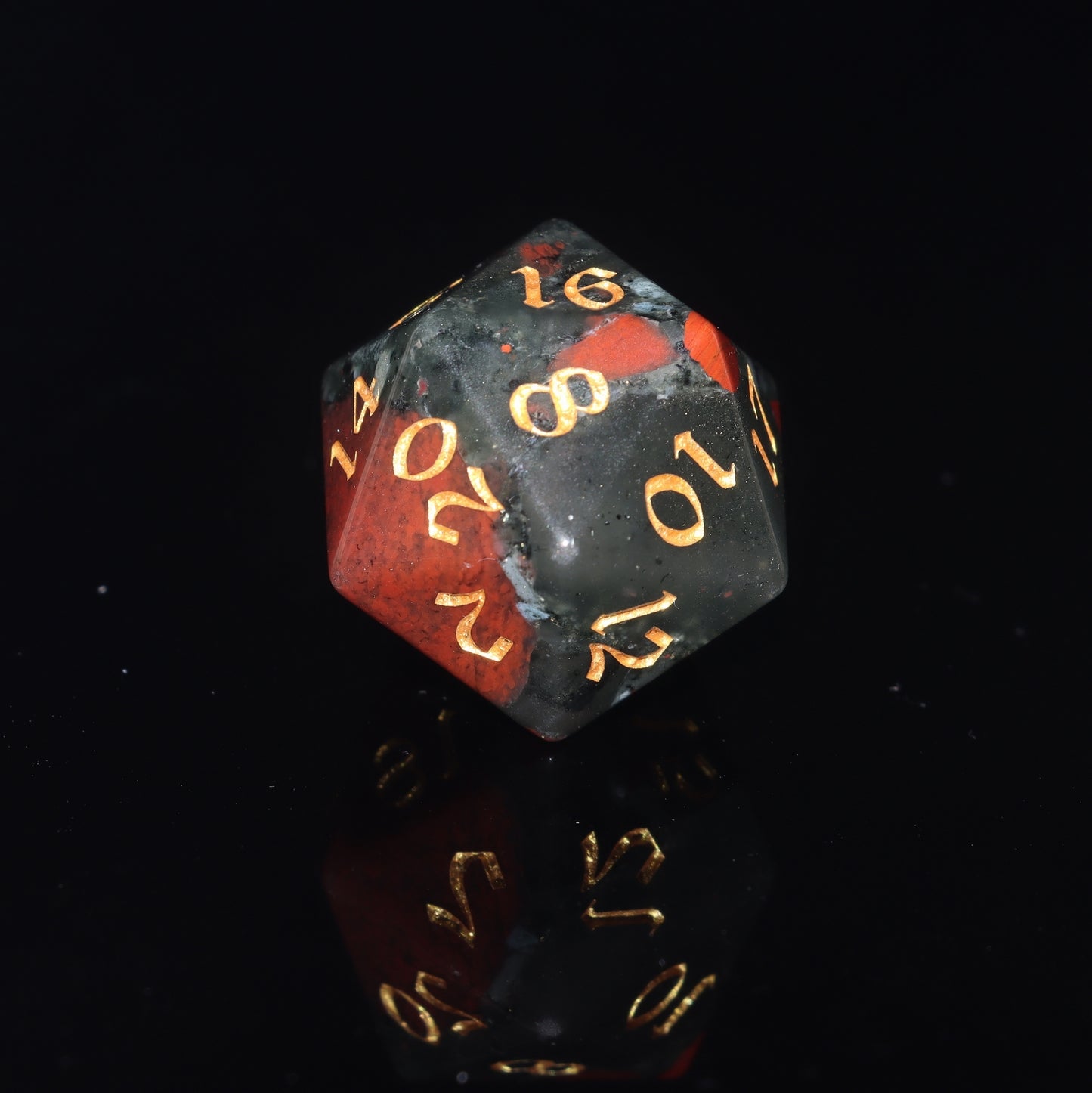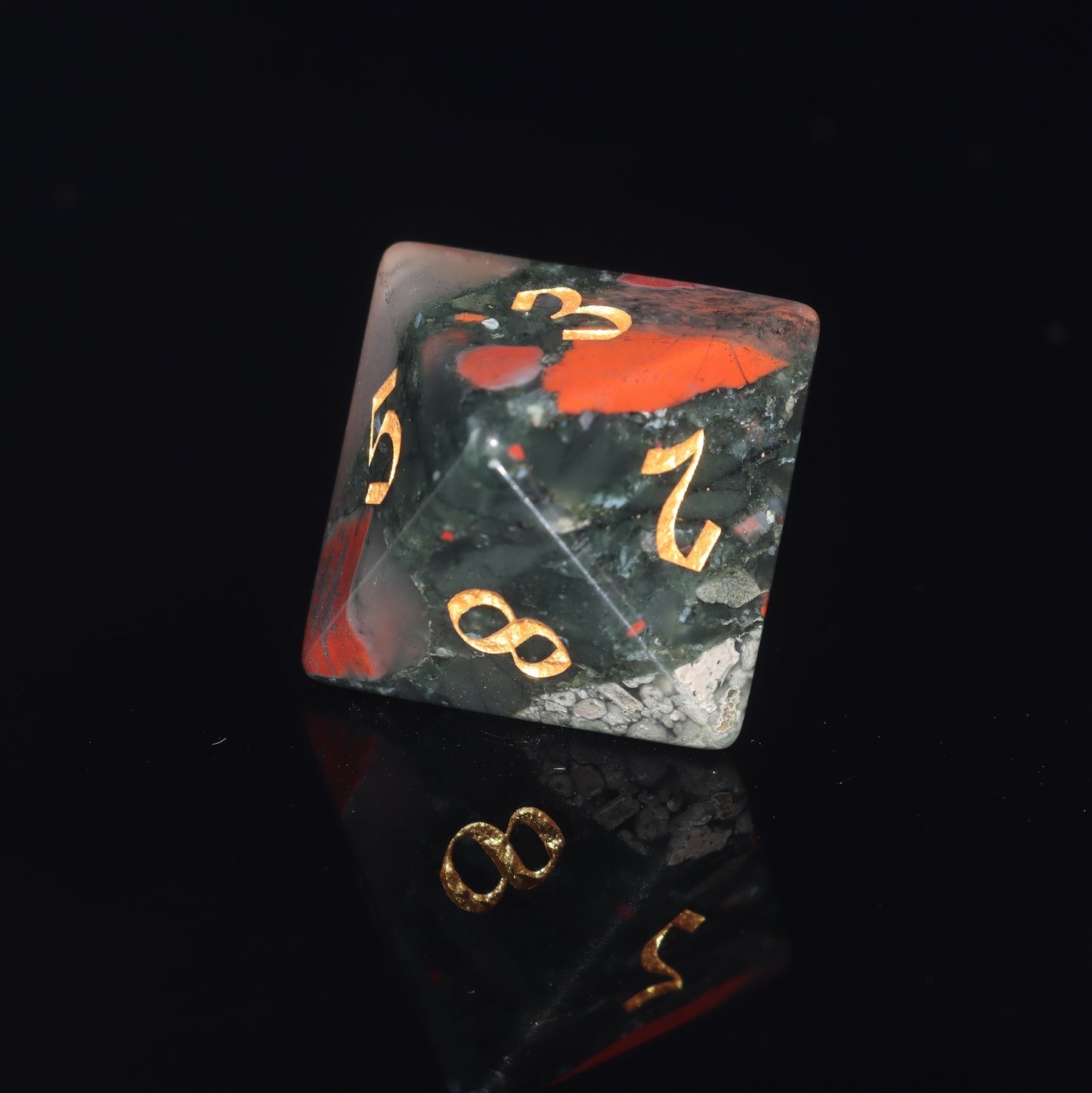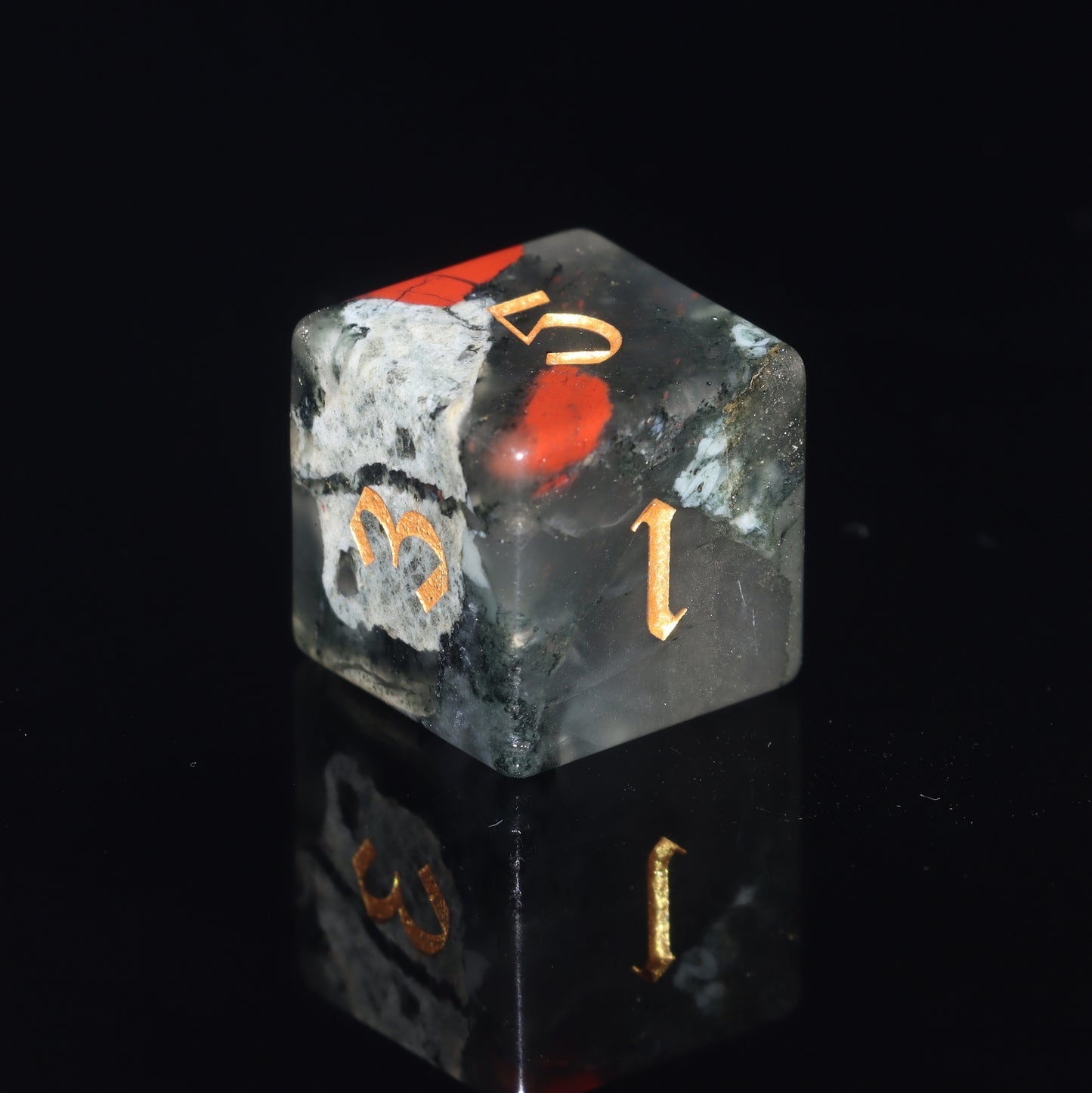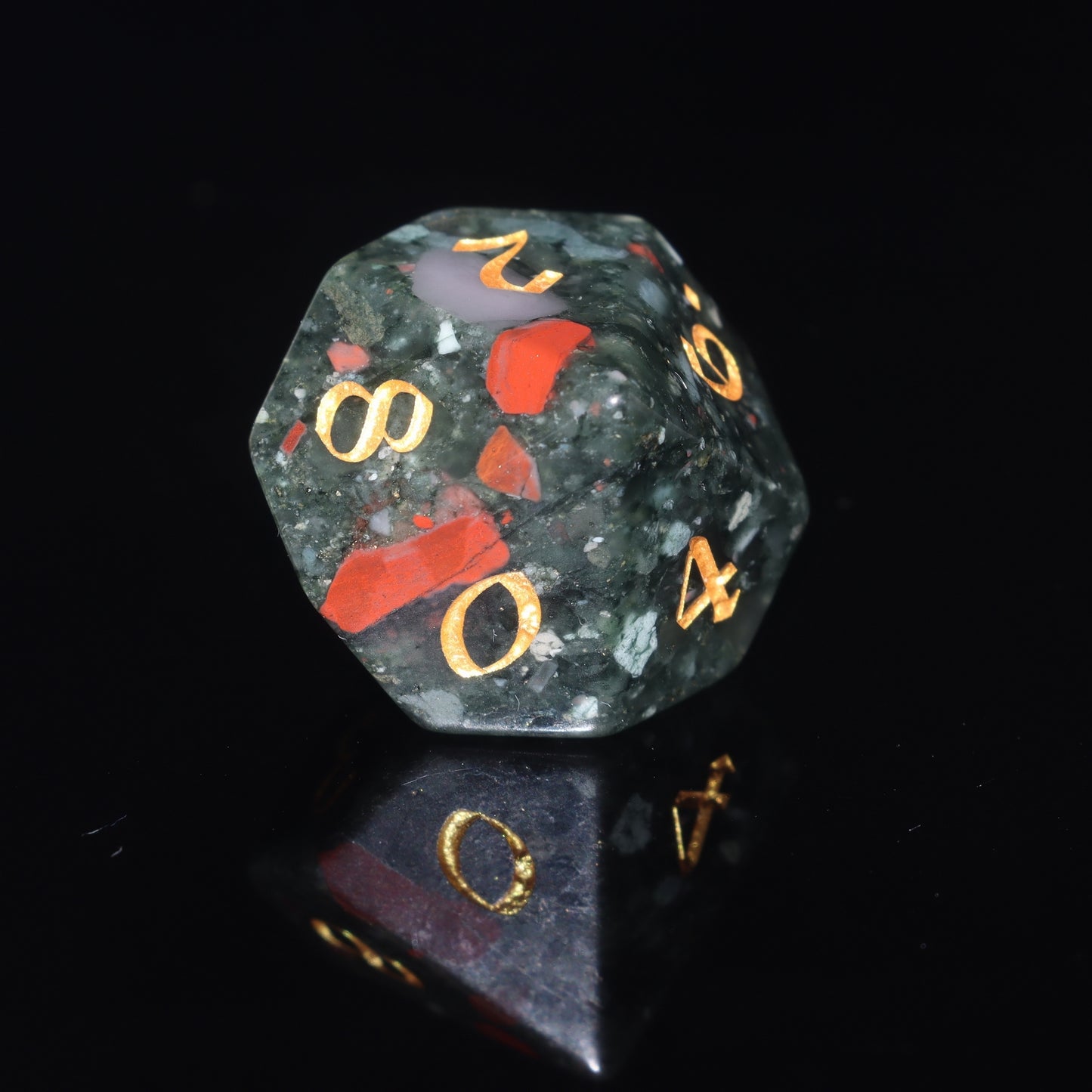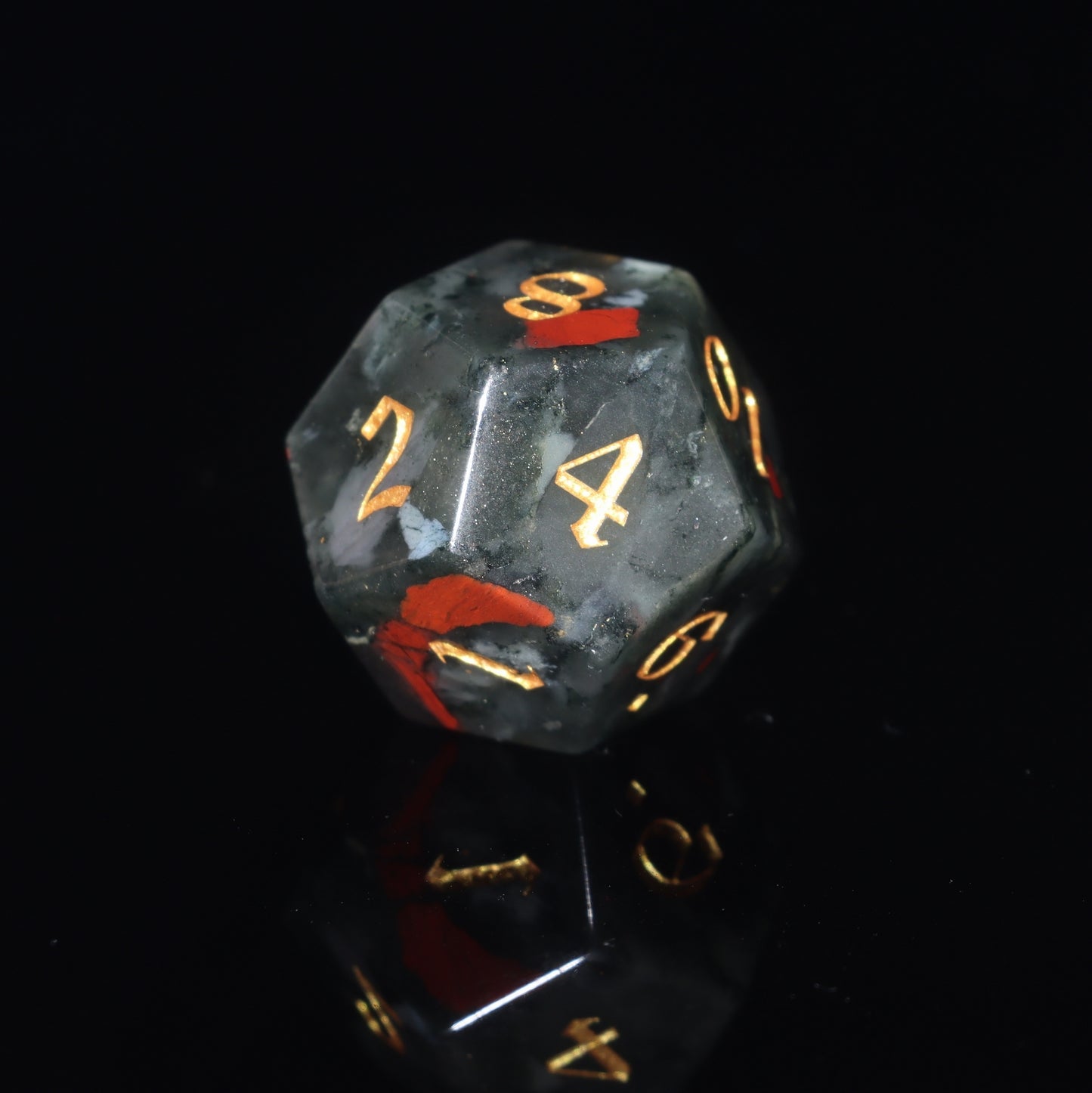 Exactly as described
Bloodstone is such a cool gemstone that I've wanted a set for awhile. Got a set and just so in love with how they came. The pattern is perfect and I really love the red in my D6. Just know that colorization isn't guaranteed in a gemstone and I am so happy that mine are perfect.